Adidas Daybreak II Backpack Review
(2021 Update)
From Adidas, the Daybreak II Backpack handles your gear without the bulk. Importantly, the spacious main compartment of the Daybreak II has a padded 15″ laptop sleeve. Additionally, the adjustable shoulder straps and padded back panel offer comfortable carrying support. For more, read the full 2021 Adidas Daybreak II Backpack review below.
Size: 20" H x 13" W x 10" D
Back Panel: Padded
Material: Polyester
Laptop Sleeve: Yes
Exterior Pockets: Two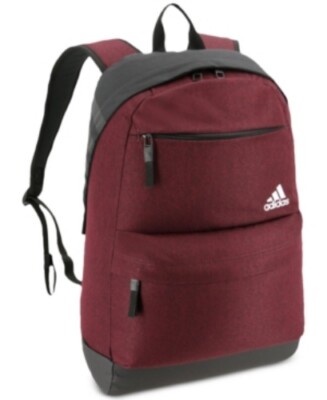 Adidas Daybreak II Backpack
Item condition: New with tags
Free shipping
as of September 21, 2021 6:30 am
Designed in simple Adidas style, the Daybreak II is a practical everyday backpack. Importantly, the Adidas Daybreak II has an easy to access main compartment and a quick stash front pocket for accessories.
From a comfort standpoint, the Adidas Daybreak II Backpack has a number of practical features. Similar to the Adidas National Backpack, the Daybreak II has padded and adjustable shoulder straps for comfortable usability.
Made of hard-wearing polyester, the efficient Adidas Daybreak II Backpack also features a sturdy interior nylon lining for protection from wear and tear.
Additional features such as a convenient top haul handle, valuables pouch, and a dual zip main compartment add further value to the Adidas Daybreak II Backpack.
Lastly, the famous Adidas logo adorns the front of the pack for a smart finish.
DAYBREAK II BACKPACK: RATINGS BREAKDOWN
Adidas Daybreak II Review Continued...
✔ Padded 15″ laptop compartment ✔ Front zip pocket ✔ Hidden internal pocket ✔ Large main compartment ✔ Adjustable shoulder straps ✔ Padded back panel ✔ Convenient top haul handle ✔ Adidas 3-Stripe logo on both sides
20″ (H) x 13″ (W) x 10″ (D)
In this comparison between the Adidas Daybreak II Backpack and the Adidas Mission Backpack, the Daybreak II comes out ahead. Notably, it has a style and durability advantage and is better value for money.
Let us know what you think about the Adidas Daybreak II Backpack in the comments below!