Nike Embarca Backpack Review
(2021 Update)
From Nike, the water-resistant Embarca Backpack is a practical skate pack with dual external straps for skateboard storage. Importantly, the Embarca Backpack features padded back and shoulder carrying support and is made of durable fabric for long-lasting use. For more, read the full 2021 Nike Embarca Backpack review below.
Size: 19" H x 15" W x 7.5" D
Shoulder Straps: Adjustable
Material: Polyester
Laptop Sleeve: Yes
Skateboard Straps: Yes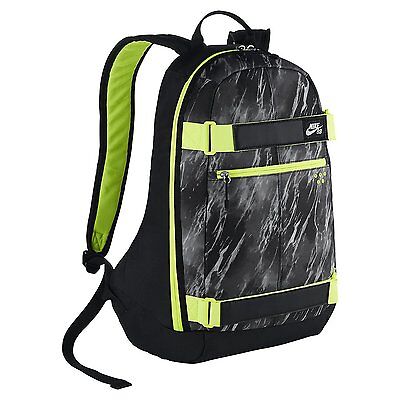 Nike SB Embarca Backpack
Item condition: New with tags
Free shipping
as of September 21, 2021 10:18 pm
Designed in rugged Nike SB style, the Embarca Backpack is a versatile unisex skateboard pack. Importantly, the large main compartment of the Embarca Backpack is conveniently secured by dual zip external closure and features a quick stash front pocket for small item storage.
On the comfort front, the Nike Embarca Backpack gets a pass. Like the Nike Club Team Swoosh, the Embarca features adjustable, padded shoulder straps for comfortable carrying support. Thus, the Nike Embarca can be confidently packed with skate gear and worn comfortably.
The Nike Embarca Backpack is made of water-resistant, lightweight polyester material. Importantly, Nike offer returns on Nike.com orders within 30 days of the shipping date — with some exceptions.
Nike's Embarca Backpack is a versatile skate pack with padded carrying support and external skateboard attachment straps. In comparison to a similarly priced pack, such as the Nike Brasilia, the Embarca offers skate specific features for those looking to transport a skateboard. Additional features include a quick stash front pocket, cushioned shoulder straps, and a laptop compartment.
EMBARCA BACKPACK: RATINGS BREAKDOWN
Nike Embarca Review Continued...
✔ Comfortable, lightweight design ✔ Adjustable, padded shoulder straps ✔ Large zip compartment for spacious storage ✔ External skateboard attachment straps ✔ Laptop compartment ✔ Unisex Design ✔ Utility pocket
19″ (H) x 15″ (W) x 7.5″ (D)
In this comparison between the Nike Embarca Backpack and the Nike Brasilia Backpack, the Brasilia comes out ahead. Notably, it has a clear style advantage and is better overall value for money.
Let us know what you think about the Nike Embarca Backpack in the comments below!